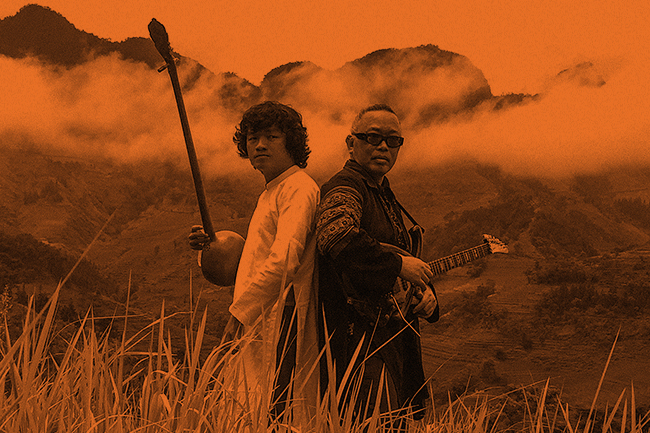 EXTENDED HANOI DUO - NGUYÊN LÊ + NGO HONG QUANG invite PAOLO FRESU, MIEKO MIYAZAKI ...
21H30

Le guitariste franco-vietnamien Nguyên Lê se tient au carrefour de plusieurs cultures, vibrant entre lyrisme asiatique, jazz iconoclaste et énergie rock. Ancien soliste remarqué du prestigieux Orchestre National de Jazz, il a travaillé avec tous les grands du jazz comme Charlie Mariano, Michel Petrucciani, Enrico Rava, Kenny Wheeler. Sa vision est à la fois un point de convergence et de départ pour les aventures musicales les plus métissées. Il vient tout juste de publier un album sublime avec le musicien traditionnel, virtuose et renommé, Ngo Hong Quang, où ils revisitent leurs racines vietnamiennes communes. Encore une fois, Nguyên Le multiplie les collaborations et rencontres avec des musiciens glanés dans le monde entier. Parmi d'autres musiciens magnifiques, on peut mettre en évidence la Japonaise Mieko Myazaki, superbe virtuose du koto, scintillante de grâce et d'élégance, et le célèbre trompettiste sarde Paolo Fresu qui apporte son incomparable timbre à un ensemble foisonnant et teinté d'un fauvisme aux couleurs exotiques extrêmes. 
The celebrated French-Vietnamese guitarist Nguyên Lê  is a masterful, inventive player who has cultivated a wholly unique voice on the instrument, ranking right up there with Bill Frisell, John Scofield, Mike Stern and Allan Holdsworth in the post-Hendrix world of jazz guitar. He has developed a distinctive sound that draws upon rock, funk and jazz as well as traditional Algerian, Indian and Vietnamese styles. His ethereal and colourful music acts like a powerful detonator which every time creates new and unheard soundscapes. On his latest album he teams up with young traditionalist singer Ngo Hong Quang, on lute, Vietnamese fiddle, Jew's harp, to portray "the soul of Vietnam" and its quickening evolution. There are jaunty folkish tunes, temple bells and ethereal melodies, and a storm of electric guitars. Nguyên's life-long friend, the famous Italian trumpeter Paolo Fresu adds elegant Miles Davis-like peaks to a powerful, fauvism-coloured fusion of ancient and modern.
Nguyên Lê, guitare électrique et acoustique
Ngo Hong Quang, instruments traditionnels, chant
Mieko Miyazaki, koto
Paolo Fresu, trompette
Edouard Prabhu, tabals
Alex Tran, percussion
Hao Nhiem Pham, flûte